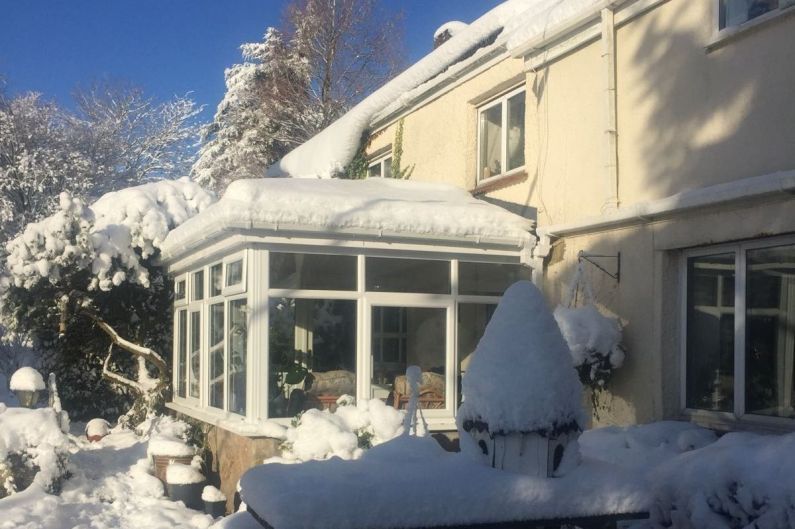 Warm Conservatory Roof Replacement - LightWeight Tiles. Having a Lightweight Roof on your Conservatory is perfect for maintaining the temperature all year round but especially in extreme weather conditions. Warm in the winter and cool in the summer. The high volumes of snow that hit the UK earlier this week have caused a lot of chaos, on the roads and out and about. But, if you prefer to avoid it all and stay at home hiding from the snow it's important that you can stay warm. Having a Lightweight Tiled Conservatory Roof ensures that you can use your conservatory, no matter what the weather is doing. 
Warm Conservatory Roof Replacement - They Are Perfect For Winter Snow
The photo above
was taken
on 12th December by our Directors' parents during the latest snowfall
.
It was -6 degrees outside and although it was toastie and warm on the inside, the heat was not escaping through their Lightweight Tiled Conservatory Roof (otherwise the snow would have melted)
. 


TAKE A LOOK AT WHAT BRUCE HAS TO SAY ABOUT THIS WARM AND COSY CONSERVATORY ROOF REPLACEMENT
Approximately two years ago, my parents' decided to improve their conservatory as it had an old Polycarbonate Roof
.
They
were fed
up with not being able to enjoy their conservatory throughout the year, as most of the time it was either way too hot or way too cold
. It was also
extremely
bright, meaning that they had to wear sunglasses to reduce eye strain.
During heavy rain the drumming sound on the roof was intolerable, these were the real reasons to improve the situation
.
They wanted to be able to spend as much time as possible in their conservatory so they could look out onto their beautiful garden, watch the birds, read their papers etc. The first step they made was to have blinds installed and this helped on sunny days
.
However
, they were very expensive and difficult to keep clean.
Plus, the blinds did not make an impact on the conservatories ability to hold in the heat during cold periods, nor stopping the drumming noise during heavy rain
.
I wanted to be able to improve my parents' comfort and knew that, we (Lightweight Tiles) had already been supplying our lightweight roofing tiles, for several years, to a company called Warmseal Windows
. They
are based
in Gloucester and have had great successes and lots of positive feedback.  I,
therefore
, contacted Warmseal Windows on my parents' behalf to see if they could help.
The guys from Warmseal, having completed a survey, decided that as the conservatory was very old (30 years old) it would be best to replace the complete roof
. Although,
in many cases
, we have found that this is not always necessary. An 'over roof 'option is
commonly
used and saves money. (See our blog on "
over cloaking
") ..why knock down a
perfectly
good conservatory?
My parents' lives have
been transformed
, to such a degree, that I felt compelled to write this blog.
It's been two years since Warmseal Windows finished the job at my parents' house.
They are now able to spend most of the day, every day (yes, every day!), sat in their conservatory,
totally
happy and comfortable
.
The conservatory is still bright enough to enable them to read their papers, in natural light, but without the glare and need for sunglasses
. The temperature, even on the coldest of days is a constant 24° C thanks to a simple 2-kW fan assisted heater.
Thanks to the lightweight roof tiles and insulation, the warmth
is maintained
(as you can see from the photo above)
.
The fact that my parents spend most of the day in the conservatory means they do not need to have the central heating on elsewhere in the house or put the gas fire on in their lounge
. They
simply
don't need to bother now as they are content and warm sitting in their conservatory.
They have also noticed a significant reduction in the electricity, oil and gas bills too!
My Father is 90 and my Mother 88. It is so good to see them happy and relaxed. 
Thanks for taking the time to read my blog.
It's not meant to sound biased, it's
just
an honest report of, one of the many applications for our lightweight roofing system
.
We are grateful that a large proportion of our sales
are linked
to conservatory roof replacement
.
You too can see how much it costs for the materials for your Conservatory Roof Replacement by using our
Online Calculator.
Lightweight Tiles Director