High performance breathable membrane
Suitable for all wind zones regardless of fitting method
Conforms to BS5534
LABC registered
3 layer membrane
UV stable for 3 months
For use on any types of roofing/walling applications
Available in 1m x 50m
Permavent breathable membranes must be installed in accordance to BS 5534 Code of Practice. The installer must ensure compliance with the relevant building regulations.

The membranes are designed as a secondary barrier to wind driven rain / snow and should not be considered a primary waterproofing layer. Whilst they can withstand UV exposure for up to 3 months, it is best practice to install the primary waterproofing finish (e.g. slates, tiles etc) as soon as possible.

Permavent membranes must be installed the correct way up, with the Permavent logo printed side uppermost.

For tile and slate roof applications the membrane should be laid horizontally across the rafters starting at the eaves and secured in place with either batten or membrane tape.
Recommended Overlap
The minimum horizontal laps for this Permavent breathable membrane, in accordance to BS 5534:2014 + A2:2018, are:

Specifications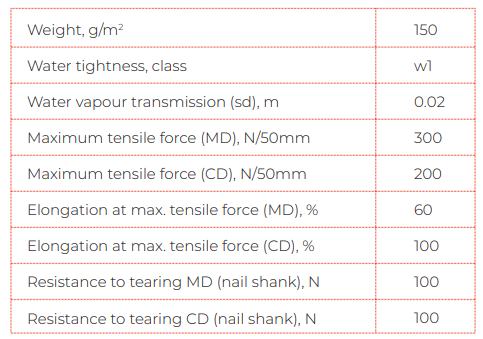 Permavent membranes are suitable for use in all applications as described in BS 5534.

For use on all types of domestic and commercial roofing and walling applications, including:
COLD NONVENTED
TRADITIONAL HYBRID
COLD VENTED
SCOTTISH AND FULLY
BOARDED APPLICATION
NB, for more complex roofs, or where you have detailing; you will use more membrane:
Ridge lines - on a duo-pitch roof, the membrane overlaps 150mm on both elevations.
Abutments (Wall/Chimneys) - the membrane continues up the vertical a min 75mm.
Valleys- you will utilise more membrane depending on the complexity.